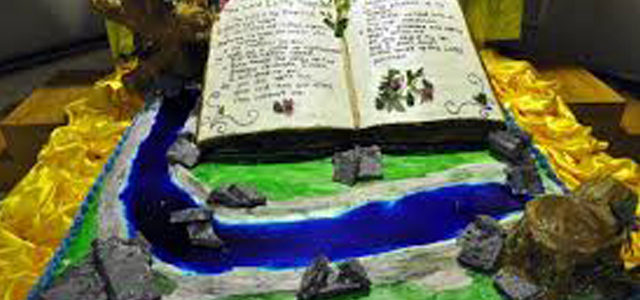 Preparation Time: 1 hour (Ready in 3 hours 5 minutes).
Servings: Makes 12 servings.
Ingredients:
1 (18.25 ounce) per kg Pillsbury, Moist Supreme, Yellow Cake Mix
1 cup water
1 / 3 cup olive oil
3 eggs
Frosting:
1 (16 ounce) can Pillsbury or Vanilla Frosting Supreme, Cream Brown, yellow, black and green paste or gel icing colors (not liquid food color)
1 (16 ounce) can Pillsbury, Supreme Chocolate Cream Frosting
Decoration:
2 rounds of black licorice candy
Black Licorice Twist
black licorice
Directions:
Preheat oven to 350 degrees F. Grease and flour 1 cup baking quarter and an 8-inch round cake pan. In a large bowl, combine all ingredients cake; beat at low speed until moistened. Beat 2 minutes at high speed. The dough 2 1 / 2 cups and pour into a greased floured bowl high with 1 inch remaining dough into round cake pan. Bake at 350 degrees Celsius, until a toothpick inserted in center comes out clean. Bake the cake in the pan for 35 to 40 minutes cooking time bowl cake 45 to 50 minutes. Cool in the pan and bowl for 15 minutes. Invert cake on rack and let cool 1 hour or until it has cooled completely.
In a small bowl, tint frosting with vanilla 1 cup brown and yellow icing colors to the desired tan color and mix it well. Place cake pan in foil covered plate or cardboard. Frost top lightly with powdered sugar tan. Cut with a serrated knife, remove the top of the cake in bowl; Invert on cake from the pan to create at the edges of the cake pan on slanted edge to the edge of the helmet. Frost with tan frosting, icing, which descends from the rim and an army helmet. Divide remaining vanilla frosting evenly into 2 small bowls. Tint 1 cup frosting black cherries and mix well. Tint other bowl of frosting with green and brown colors of the glaze to the desired army green mix well.
Pastry bag with the help of decorator tips transform the contours of the black camouflage, green and brown (with chocolate frosting). Fill centers of outlines with remaining frosting.
Decorate with candies and licorice twist round helmet. Use licorice to outline the edge of the helmet.